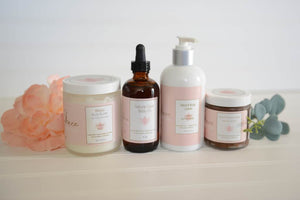 Leanne Grace Skin Care
The body bundle
Regular price
$102.00
Sale price
$111.00
You know you want it, the ultimate in body care! You can have the smoothest and most hydrated skin around.
What you get in this Bundle:
-8oz Lemon Buttercream Hand and Body Lotion
-8oz Blissful Body butter in your choice of scent
-4oz Natural Glow Body Oil
-40z Face and Body Polish
How Cassie loves to use this bundle:
"While I am in the shower I love to clean my body well, and then go in with the Face and Body Polish. Once it is completely rinsed off I love to mix the body oil with the lotion and massage that all over my body. I then take the Blissful Body Butter mixed with a little more oil and slather all my extra dry areas, my feet, my knees, my elbows, and anywhere else that may need a little extra moisture. I wake up to the softest skin in the world, even my husband comments saying how soft I am. I want every woman to experience the skin this bundle will give you!"
---